Summer 2021 ED Note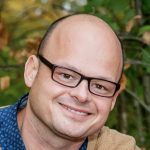 A Note from the Executive Director
Josh Bytwek, Executive Director. 
Summer 2021
Summer 2021 – Recently, at the Love in Action food truck, I was walking among the tables of food. A volunteer from a local company casually said "hello" but also included my name. On a sunny Friday morning, everyone's eyes were covered by sunglasses and I had no chance of knowing who this person was. I circled back, only to find out that my friend was Tammy, a Hope House (LIA's women and children's shelter) graduate returning to give her time to other neighbors in our community facing need. Tammy came to LIA in a truly dark place, having faced addiction. As she worked, her joy-filled demeanor and compassion stood in marked contrast to my memory of meeting her just three years before at a food distribution where she was receiving food. As we talked she shared, "I would not be where I am today without Hope House and Love in Action." It caused me to think about those whose lives are changed and the ways I get to see them express their hearts around me in our community.
A volunteer receptionist at the LIA Donation Processing Center giving her time each week to make sure donor and pantry callers are heard.
A new LIA Board Member who graduated from Hope House and uses her remarkable understanding to guide LIA's direction.
A local Human Resources person who shared how Harbor Hall and Hope House residents and graduates are making a difference as employees at her company.
So much good comes of the partnerships at Love in Action! We truly believe that when our neighbors who are facing needs and our volunteers from local churches and businesses come together, transformation happens to each of us. We dream of a community that allows us to work together for good across economic lines. Restoration requires we work with each other, not merely provide a resource for those experiencing material need.
Your part is equally essential. A gift here, or better yet, a monthly commitment, means a legacy of lives changed. We have been blessed in our area with so much. With almost one out of three within our community struggling to make ends meet, each of us can be a part of the solution. Your donation of a canned good may be able to round out a student's Backpack Blessing. Your monthly gift will keep a safe and healthy community thriving at Hope House and Harbor Hall. Your decision to make a difference with your money, your time or your material goods can change lives and help us form a compassionate community of togetherness!
Subscribe and Stay Connected!