A Note from the Executive Director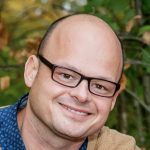 A Note from the Executive Director
Executive Director, Josh Bytwerk Fall 2021
Not too long ago, Jerry stopped in at Love in Action's dental clinic for needed services. During his intake, it became clear that he had dramatically elevated blood pressure. The dental clinic immediately referred him to the health clinic where an underlying heart condition was diagnosed. Because Jerry lacked health insurance, referring him to a specialist was challenging. The health clinic staff helped him apply for insurance and then were able to refer him to the needed specialist. He not only received the dental care he needed, but also medical care that quite literally saved his life.
Along the way, Jerry began making positive life choices, including choosing to stop smoking. His health improved and he was again able to work. He was able to retain a primary care doctor, who helps him to continue in improving his health. He recently sent a card in which he said, "I can't say how many times LIA has saved me and given me renewed faith. Thank you!"
I love to think of LIA as an outpost of hope for those facing needs and challenges such as Jerry's. It's not that we can solve every problem; but we can listen, connect, collaborate and care. What makes LIA unique is that we are a compassionate expression of this community, its churches, its businesses, its people, its heart. Every visit to the LIA Health and Dental Clinic is funded by you, our supporters. Every single dollar that funds Hope House and the community of women and children who live there comes from this community. In nearly every year well over 90% of all the funds and resources needed to run Love in Action come from the churches, businesses and people here.
Non-profits come in all shapes and sizes. Many are funded by federal or regional grant funds and are designed to take resources from outside our area to meet local needs. Honestly, that's good! Resources need to be shared. But we are an expression of you, our faith-filled, compassionate and caring community. Thank you for what you give here. Lives are truly changed, not merely because resources make a difference, but also because compassion does.
Subscribe and Stay Connected